About This File
Posted 09 February 2009 - 02:34 AM Resized to 97% (was 728 x 631) - Click image to enlarge
This is something that I'm very proud of! because it basically shows what I do in my everyday life.
There are 9 chance cards completed in this career.
This career is EP compatible and it will not overwrite any Maxis or custom made careers becuase it has it's own GUID.
Here is a run down of the career levels:
Job Levels:
1.Bodyshop Newbie
Description:
You are a bodyshop newbie. You bought the sims 2 base game for the first time, and were just playing until you found out about bodyshop. Who knew you could make your own clothes and hair, and it comes with the game!
2.Bodyshop Apprentice
Description:
You just found out that when editing the sims 2, you can actually go online and share your creations for all the world to see!
3.Bodyshop Modder
Desccription:
As a bodyshop modder, you now know how to make clothing conversions for age groups, gender conversions for toddlers and children, and how to edit the lens color of glasses. You are learning something new every day.
4.Bodyshop Mesher
Description:
Vertices, polygons, and SimPE oh my!
5.Amazing Lot Builder
Description:
Lots are something that are entirely objective. One man's trash is another man's treasue, and beauty is in the eye of the beholder when it comes to lots. However, you have learned the secret to supreme lot building. Most of the lots you upload are now featured on your favorite sims 2 upload site.
6.CAS Screen Creator
Description:
Youv'e learned how to do something completley new and different. You have learned how to create a CAS screen. Your experience with lot building really shines through.
7.Career and Major Creator
Description:
The life of a career and major creator entails typing. Lots of endless, endless typing! You need to use your creative writing skills in this job!
8.Game Mod Newbie
Description:
You have decided to branch out and try something new. Game mods. You learn through pure trial and error and asking plenty of questions in the SimPE forum.
9.Game Mod Expert
Description:You now know your way around custom BCONs, BHAVs, OBJDs, and everything else. You are capable of writing your own tutorials for modding the sims 2.
1O.Site Administrator
Description:
You now have your own sims 2 site. You are in total control of how it runs, and what is allowed. You have staff members under you making all of the important descisons. You work with the staff of your sims site to improve communtiy downloads for everyone.
Here is an example of a chance card: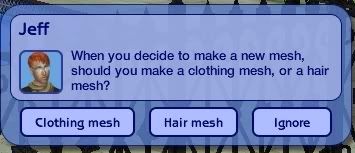 Above is the custom icon created by me.