About This File
As a special gift for Alet and all those who do not play a period game, may I present "Sammy the Mime". He will dance, juggle, play hand puppets and generally make a fool of himself. Watching him increases fun and generates lots of laughter, foot stompin' and belly grabbin'. Available for the entertainment of your Sims at home or on on a community lot.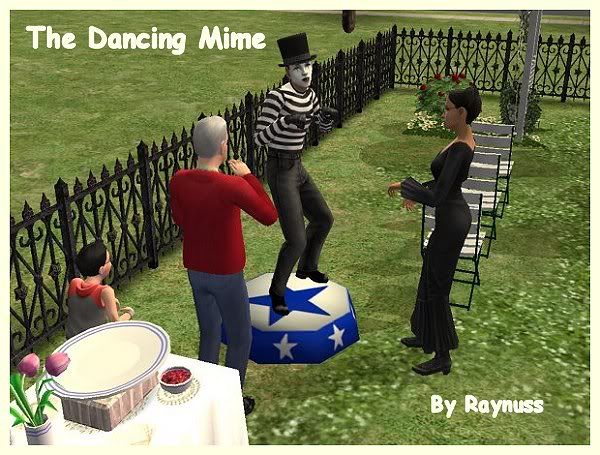 Another screenshot: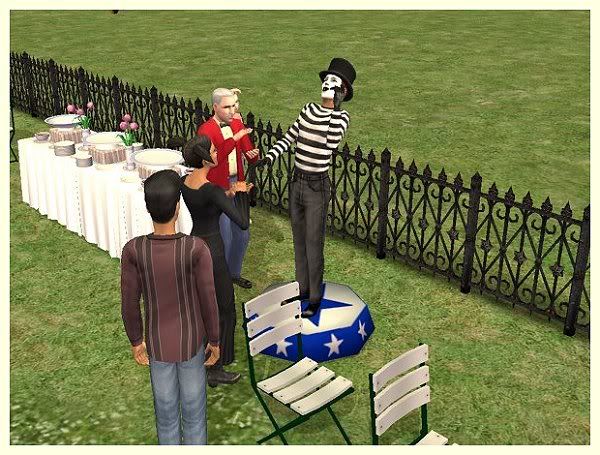 Podium Faces: 30
The Mime is a custom NPC, and so it has the equivalent poly count of most sims.
Appears in the Catalog under Miscellaneous/Party for 100 Simoleons[/center]
Installation: Unzip and place the resulting folder wherever you normally place your downloaded custom content. Both of the files in the folder are necessary for the mime to work.
Use: Buy the Mime's podium and place it on your lot. When you switch into "live mode", the mime will appear on the podium and start his show. You can instruct your Sims to 'Watch' the mime for their enjoyment and fun boost.
Credits:
Echo for her dancing carnival clown that I used as the basis for my mime.
Note: The podium can only be moved while there is no mime on it. Once the mime NPC has been spawned, you'll need to use "Moveobjects on" to move or delete the podium.
Tested in a vanilla game with all expansions plus M&G.
Ray