About This File
This is a post from my MTS account, which I am posting here per request from Nonni.  Thanks Nonni!
This door was requested by sim_plicity. Thanks for the request sim_plicity!

I have included 5 recolors.  Found under doors for $50 simoleons
Shows wood textures -  I updated the screen and the wood textures grain direction in the image above.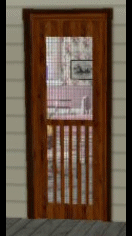 Request Image: