About This File
Update October 26, 2013:  Added file of textures and meshes needed to eliminate flashing blue items.:  
Here is another template house from my building hood here.
The above picture is one of my current custom hoods I use exclusively for building residential lots. No sims have ever been played in this hood. I am dedicating all the houses I make in this hood to Affinitysims. This means that you will get to see new houses frequently. I'm hoping once a week. All lots will be unfurnished. There may be a few pieces of furniture or other objects, but consider each lot a template for YOU to decorate and modify as you want.
If building is something you dislike, or you love to decorate and makeover houses, these are just for You. I build for both playability and taking pictures. So, don't expect to see a house with only teeny tiny rooms where I can't get a decent camera angle. Any small spaces are intentional, but not in ways that will make it difficult for your sims to get around the lot or other sims. Change it as much as you want. You may consider them fixer-uppers for your play style and decor tastes.
Template Name: 6 Affinity Road
Lot Size: 40x20
Price: 45,600
Description: This is a large 3-story house with many rooms. There is a single restroom on each floor.
First Floor: The kitchen is partially furnished so you can see that it is roomy enough to accommodate a 3-tile dining table. The kitchen also has outside access for grilling or setting up tables for dining outside. The front room is the living area with enough room for a large family to enjoy family activities, homework desks, and receive guests if you wish.
The Second Floor: There are three rooms on the second floor that can be used for bedrooms. There is also a balcony facing the front of the lot. There are no doors to this balcony - you have to decide which room gets the door. With single beds or bunk beds, you can fit a lot of kids in the second floor rooms if you like to play large families.
The Third Floor: There are two bedrooms on the third floor. In my mind, one room is the bedroom for the Mistress and Master of the house, while the other is their dressing room/bathing room/office. But you can decide differently. Access to the balcony that wraps around to the back of the house is next to the bathroom.
The outside of the lot has some landscaping and room for gardening or keeping pigs or sheep. There is a covered "barn" to keep your horses out of the sun. It is made for you to place a driveway. The layout of this house is one I used for a bunch of Uni sims. I had six sims living in this layout and had the fences much further closer to the front of the lot, so they could have a garden of a large size. I did not set this house up as dorms, just a regular house.
Here are some pictures.
Front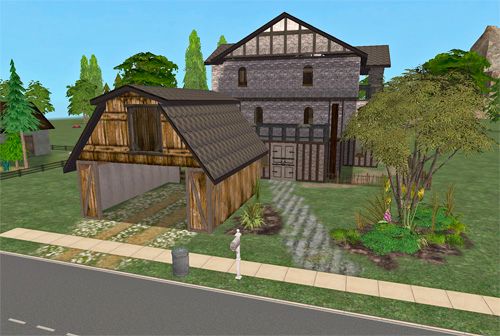 Roof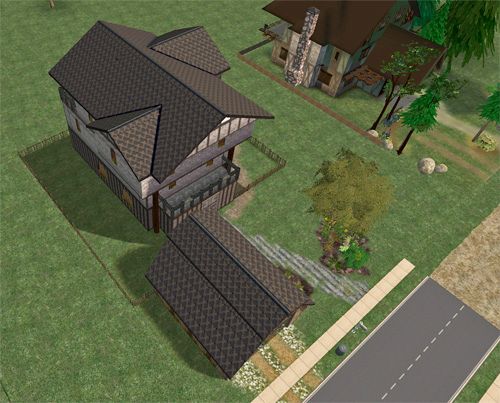 First Floor
Another view of the First Floor with a view of the barn.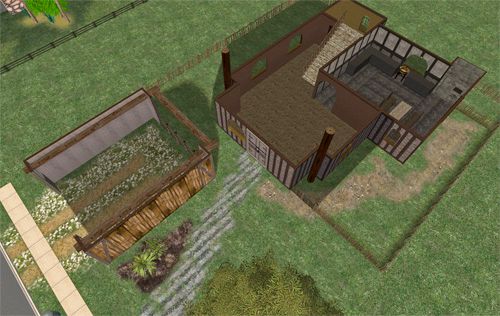 Second Floor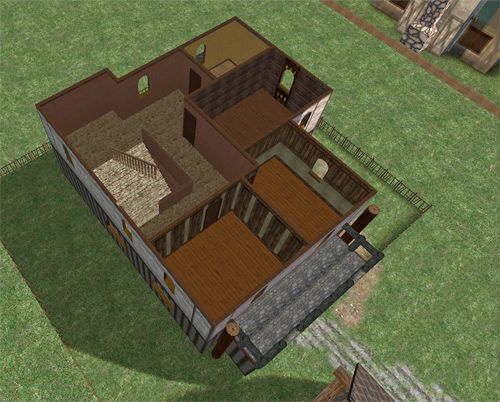 Third Floor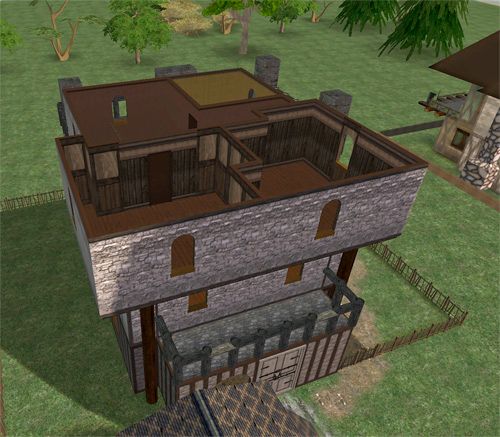 Rear
Exterior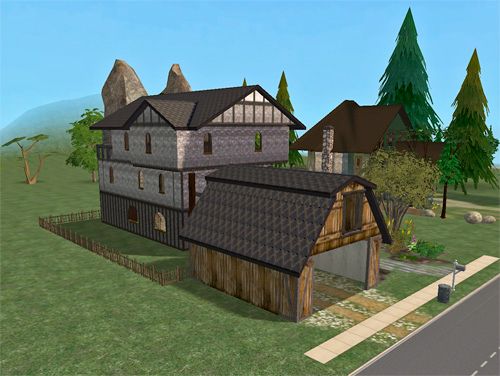 Another Exterior
CC Not packaged: Invisible driveway-choose your own.
Please use Clean Installer (http://sims2pack.modthesims2.com/) or MacUnpac (http://forum.jfade.com/viewtopic.phpf=11&t=456) to install these lots to be sure to avoid any items or problems you do not want. These lots are originals, so have NEVER been played. I only play copies of my lots. Nonetheless, it is suggested you make a backup of your game before installing any new lots.? ?
Expansions I have are: TS2, University, Nightlife, Open for Business, Seasons, Bon Voyage, GLS?
Please let me know if I have unintentionally overlooked any creator or their content, or if you know of updated links. 
 
Finally, enjoy, have fun, and expect MORE!