About This File
I created this several years ago, and now that I have learned a lot more about coding, and because LilSister brought it to my attention, that there were issues with the original version.  I have done a major overhaul on it.  
The sing along option has been totally redone and checks to be sure you have Free Time installed before you are allowed to use that option.
The dance option should work for any expansion combination you might have.
The turn on/off options are no longer autonomous. Sims are able to turn it on no matter where they are on the lot.  In other words they don't have to walk over the the bear to turn it on/off.
I test to be sure it is turned on, before the sing along and/or dance options become available options.
The sound volume for the nursery rhyme music is lower, I found it overshadowed the toddler's singing.
Toddlers are able to select an option of gaining 90% of their singing skill learned, but only if they do not already have 90% or above of the skill.
Toddler without the skill:
Toddler with the skill: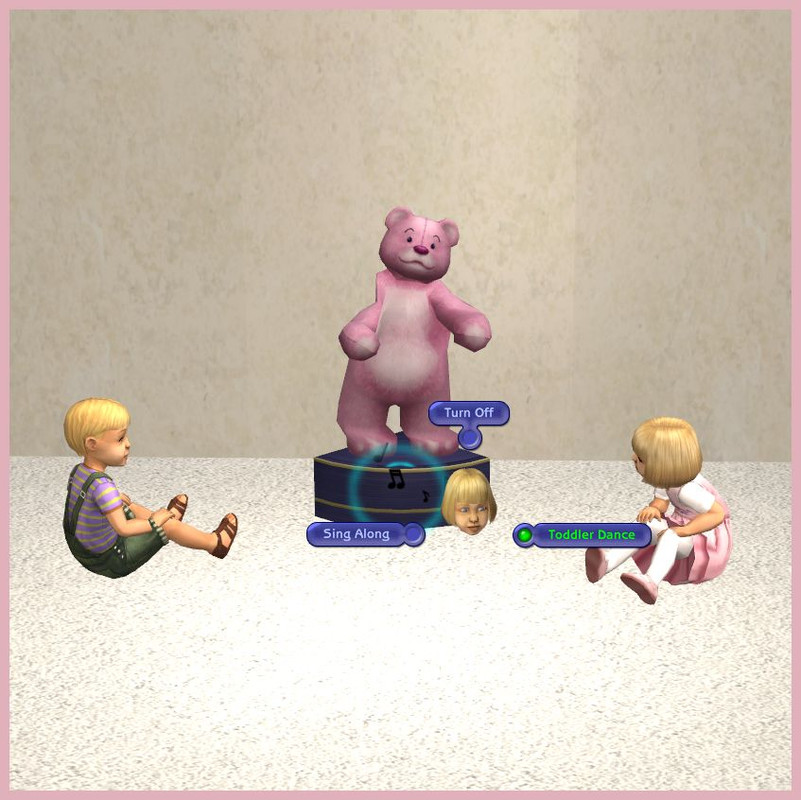 Toddlers gain fun, social, learn Charisma  and Enthusiasm for Music with the sing along option.
I also, fixed up some issues with the mesh.  The mesh was an EA sculpture, that I reduced in size, moved it's arms, added joints and assigned sections to those joints.  To make it animatable.   Textures are pulled from the EA sculpture.
This is found with other radios, under electronics, for $99.
Credits' To LilSister for telling me about the issues and for testing.
Note:
Be sure you remove any older version of this bear from your downloads folder, and both files found in the folder are needed for this to work properly.