About This File
Posted 22 November 2007 - 04:30 PM

I have made this to increase infant and toddler's needs for fun, hunger, bladder, and energy when placed in the bouncy.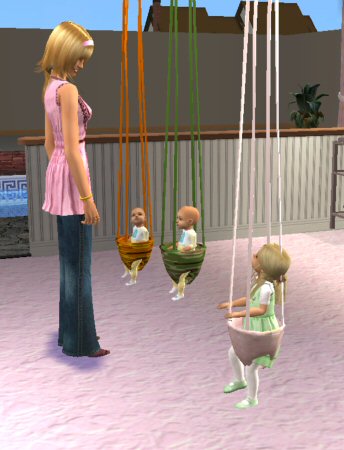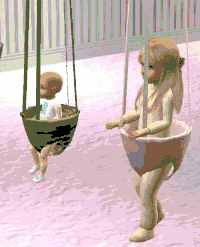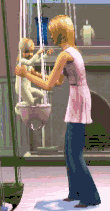 It's been about a year ago that I first started playing Sims2 and this item has almost all the skills I've learned rolled into one object. I'm kind of proud of this creation although it's very simple it does represent most of the skills available to learn.

It's coded to be used by infants and toddlers. They will gain fun and a very small amount of energy (about the same amount as the game decreases their energy per hour). You won't notice a major difference in their energy, but they should not get tired while in the bouncy.

Custom Object Animation: The animation of the bouncy going up and down. This is my second object animation. I actually started this before I started my animated swing, it took longer because I wanted to create a new body animation. Echo and Wes_h get the credit for this skill. Jasana BugBreeder was also a big help to me.

Custom Body Animation : Toddler and infants have a new leg movement to go along with the bouncy. It's not perfect but it took me days to get this to work. This is my first body animation so please don't be too critical. Echo, Wes_h and Solfal were very helpful in this skill. Dr Pixel for his body meshes.

Repository Technique : I pull the textures from the Maxis crib. This technique give you all the colors maxis created for the crib and any re-colors you have for it will also be pulled for the bouncy. To actually create a re-color you must recolor the Maxis Crib. Thanks to JWoods and Numenor for their help in this area.

New Mesh: I created the mesh myself. I really didn't learn this through an online tutorial.

Working with the Slots Routes and Joints credit goes to FishEeyes and Echo.

I really owe so much too all these great people without them I would not have a clue as to how to do these things.

The Bouncy is found under General/Child and should be compatible with the base game and any EP combination.

I sure hope some of you enjoy it.

Gif images are low quality to get them small enough for uploading.

Additional Credits:
Credits to: All that help make this possible. SimPE creators, CEP creators, Peter & Inge Jones for the PJSE SimPe plugin, this site, Stephen Cox creator of UVMapper, and creators of MilkShape. Echo who has taught me more than anyone and I highly recommend her tutorials found at MTS2. Wes_h for his animation plugins and his detailed answers to my questions.

Echo is so knowledgeable on so many aspects and without all her help I would not have been able to complete this. Most of my creations would never have been a reality without Echo. Thanks Echo!

If you like this item please take time to rate, comment.