About This File
Posted 16 October 2007 - 12:26 AM
I believe one thing you can find the most recolors for is the Maxis Bedding. I also think it is the easiest thing to learn to recolor. This set will give you lots of recolor options and use very little space in your download directory. Because all items included use the repository technique to pull textures from the maxis bedding and any recolors of maxis bedding.
Set includes:
Double bed - toddler can sleep in, relax on, daydream, make the bed, and jump on it. The jump on bed option is non autonomous and may cause an error if toddlers jump for very long. If you do not know how to use the object error, I do not recommend that you use the jump on bed option. I considered leaving it out all together but it's just so cute to watch them jump on it.  It's found under Seating/Beds for $3000.
Sofa Bed - I've added a sleep option. I always get more rest sleeping for 15 minute to half hour, then I do sleeping all night sometimes. So why shouldn't my Sims? I did not change the catalog reference to reflect this because the nap option is still only 2. The sleep option is set a littler higher than 12 energy. It increases 0x064 per hour for those that understand the codes. Found under Seating/Sofas for $1700.
3x4 Rug Requires Night Life EP and is found under Deco/Rugs for $75.
End Tables 2 versions One pulls the textures from the sheets for the top and quilt for the bottom. The second is the reverse options. I believe this is base game compatible. Surfaces/Endtable for $100, no depreciation.
Vanity - Requires Seasons and is found under Surfaces/Misc for $500 no depreciation.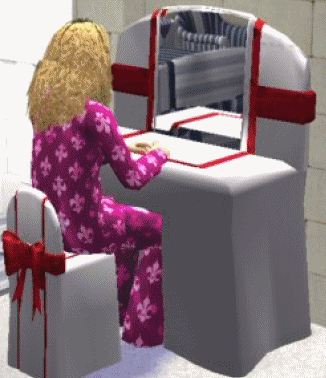 Recliner - Is found under Seating/Recreation for $470 and does not depreciate. This should be base game compatible.
Desk - Is found under surfaces/desks for $500. This should be base game compatible.
Chair - requires celebrations stuff pack. It is found under seating/diningroom for $100. This chair is the same one posted Here . If you already downloaded it you don't need it again.
Curtain - Is found under deco/curtains $150.
Some of the toddler items you may see in pics will be posted as soon as I get that set completed.