About This File
Posted 20 February 2008 - 02:03 AM
Hello Y'all,
I felt like creating something, so I made this altar that someone requested a LOOONG time ago, lol.
Poly Counts
806 Faces
556 Vertices
Games Needed
The Sims 2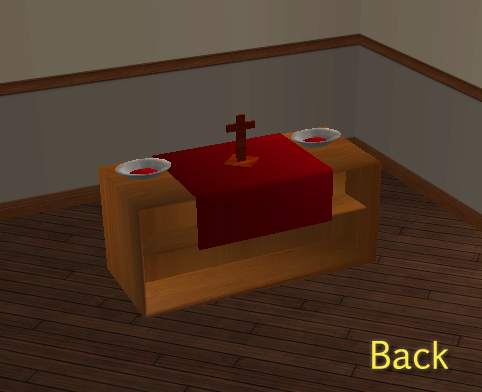 Anyone feel free to recolor this, as I'm sure that y'all might like this in several different colors - especially that cloth laying across the top. The texture map is relatively easy to discern, so I don't think anyone should have much trouble with it.
Enjoy!
Update - 02/22/08 - Fixed a problem causing this object to not be recolorable. You must re-download this object in order to recolor it, or use any recolors for it. Simply drop the new file in your downloads folder and allow it to overwrite the old.